Previous releases that are on the shelf for now. Some will return, some won't. You'll just have to stay tuned!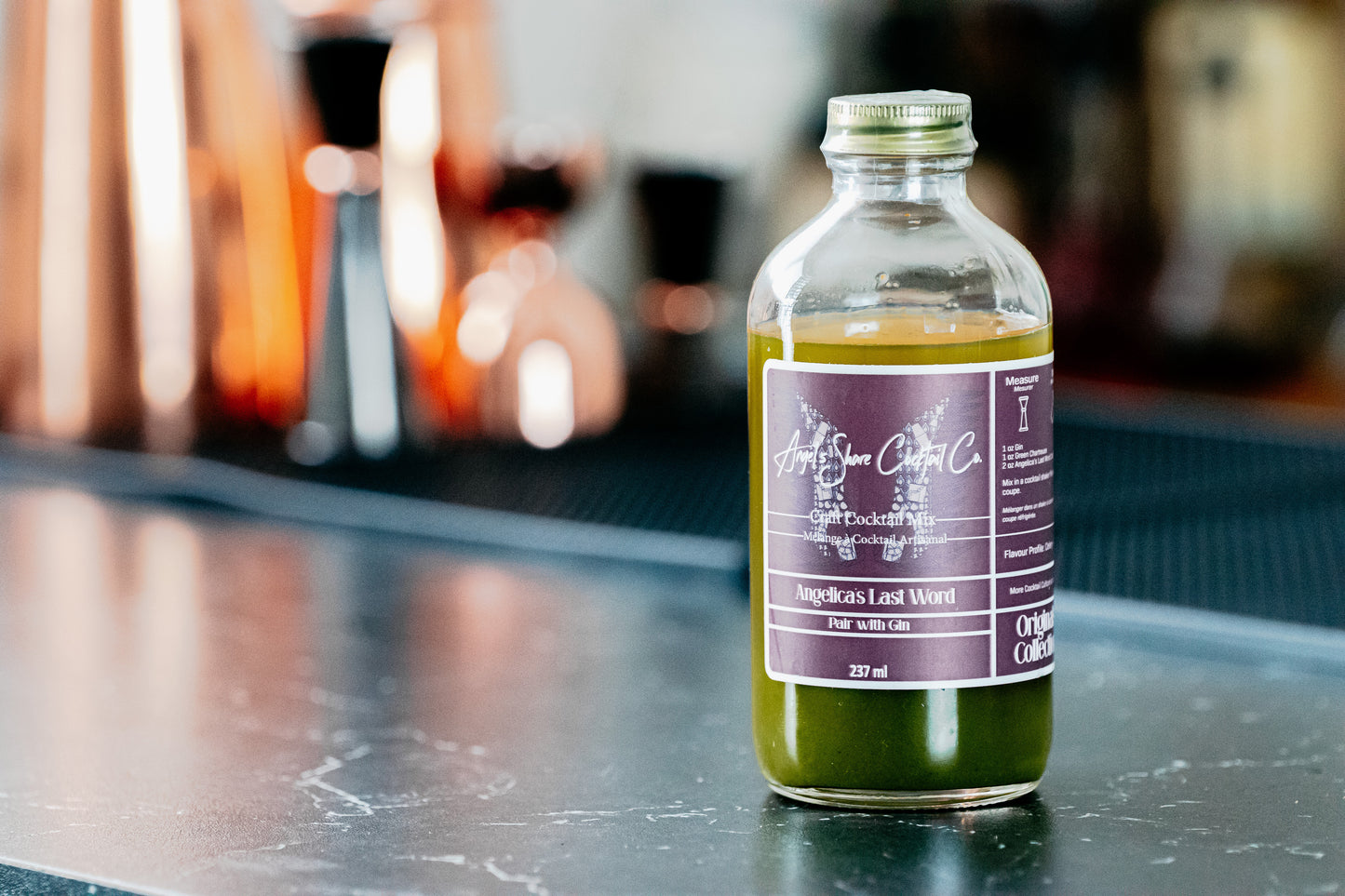 Angelica's Last Word
Pairs With: Gin + Green Chartreuse
Flavor Profile: Celery + Toasted Black Peppercorn + Lime
This cocktail is one for the cocktail enthusiast, someone who seeks out complex flavors and originality.
We've wanted to do a cocktail featuring celery for a while because of the fresh and bright flavor this often unappreciated vegetable offers. For some reason Green Chartreuse stood out as something that could work well, and since the Last Word is easily one of our top three classic cocktails, our minds went to that classic template. To make this cocktail more interesting we decided to flip out the classic maraschino component of the Last Word with celery juice and a toasted black pepper syrup. 
We named this one Angelica's Last Word as a nod to wild celery - Angelica. 
What happens when you drink this cocktail is first a hit of herbaceous Green Chartreuse, one of the most enjoyable reasons for sipping on a Last Word. Next you'll find the gin and lime crosses your palate offering first some refreshment then some more botanicals. At the end of your sip you'll taste celery, distinct and forward, before detecting a subtle spice from the toasted black pepper.
Bardstown Summer
Pairs With: Bourbon

Flavor Profile: Tea + Lemon + Rhubarb
Inspired by a trip to Kentucky, our take on a Bourbon sweet tea has all the fixings to keep you happy and refreshed all summer long. We combine a black tea with a tangy dose of citrus and round things out with a hint of rhubarb bitters.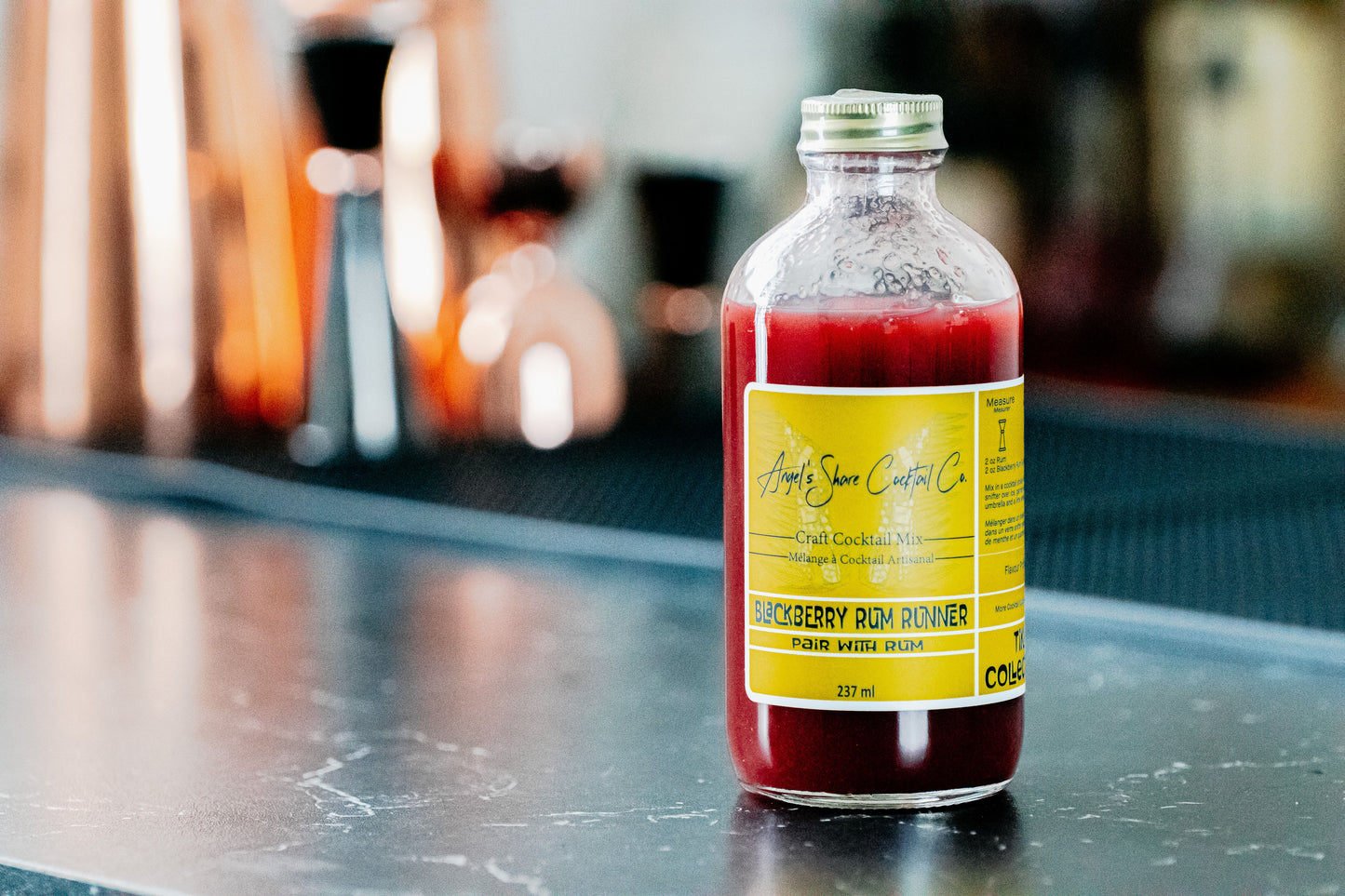 Blackberry Rum Runner
Pairs With: Rum
Flavor Profile: Blackberry + Lime
If the color isn't enough to make you interested, the refreshing combination of blackberry and citrus might be. While you may think this cocktail will come in on the sweeter end of things, it's actually surprisingly tart and refreshing and highlights all the funkiness of a quality aged rum. 
Coffee Old Fashioned
Pairs With: Amber Rum
Flavor Profile: Coffee + Aztec Chocolate
This old fashioned style cocktail plays off the unique layers of flavor exhibited by a quality, aged amber rum. These funky aged rums feature a variety of undertones that present an opportunity for us to introduce complementary flavors - coffee and Aztec chocolate.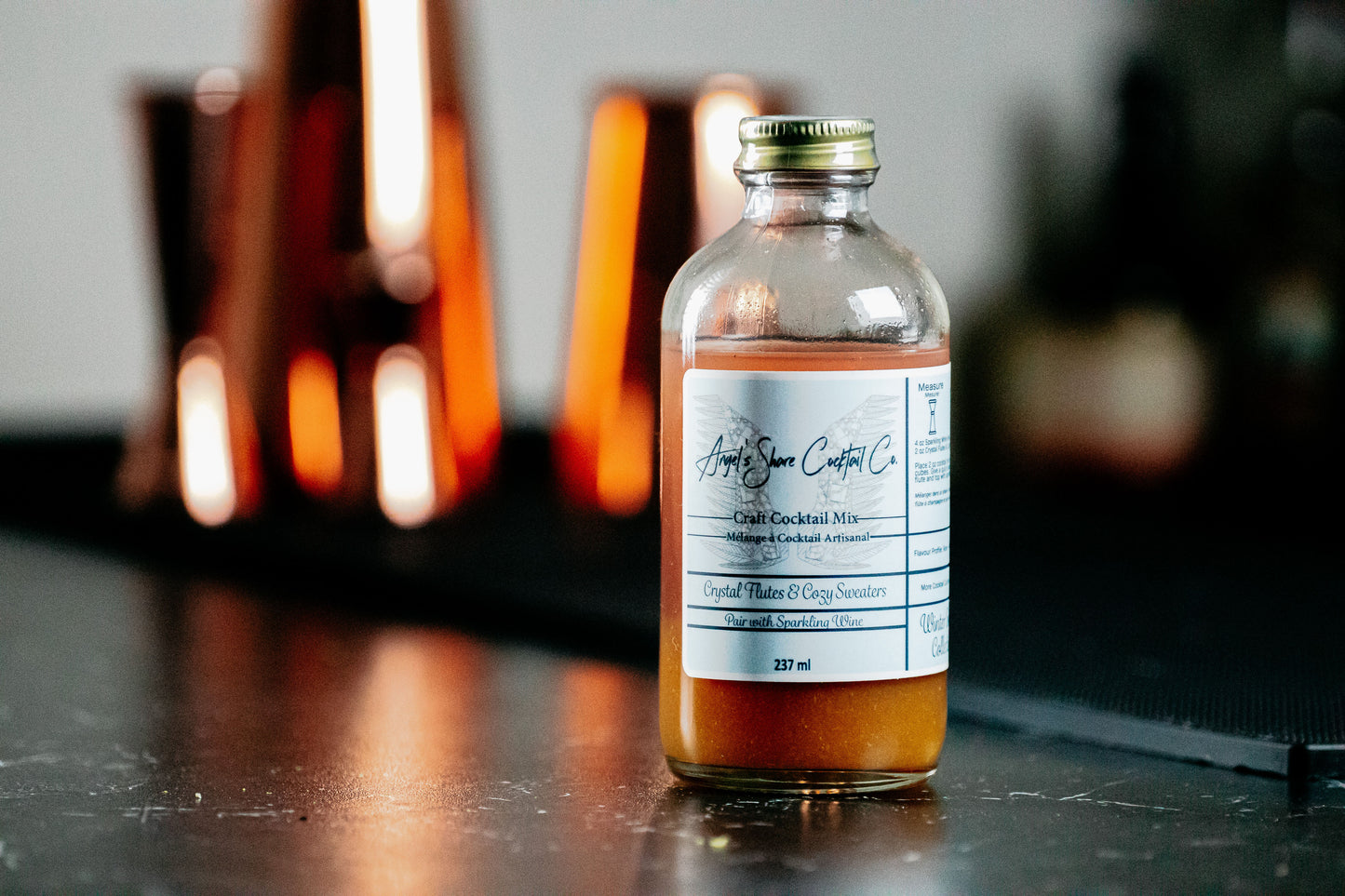 Crystal Flutes & Cozy Sweaters
Pairs With: Sparkling Wine
Flavor Profile: Rose + Almond + Orange + Pomegranate
To me, the holidays evoke memories of mimosa's and brunch, so I set out to create a cocktail that elevated the mimosa to a new level. Champagne, to me, signifies the pinnacle of elegance, so pairing rose with the wine made a lot of sense. I also wanted to introduce a richness that would cut through the dryness of the wine, so almonds were introduced to the mix. Finally, I wanted something that shines in the glass so pomegranate adds a beautiful hue and a subtle flavor to this cocktail.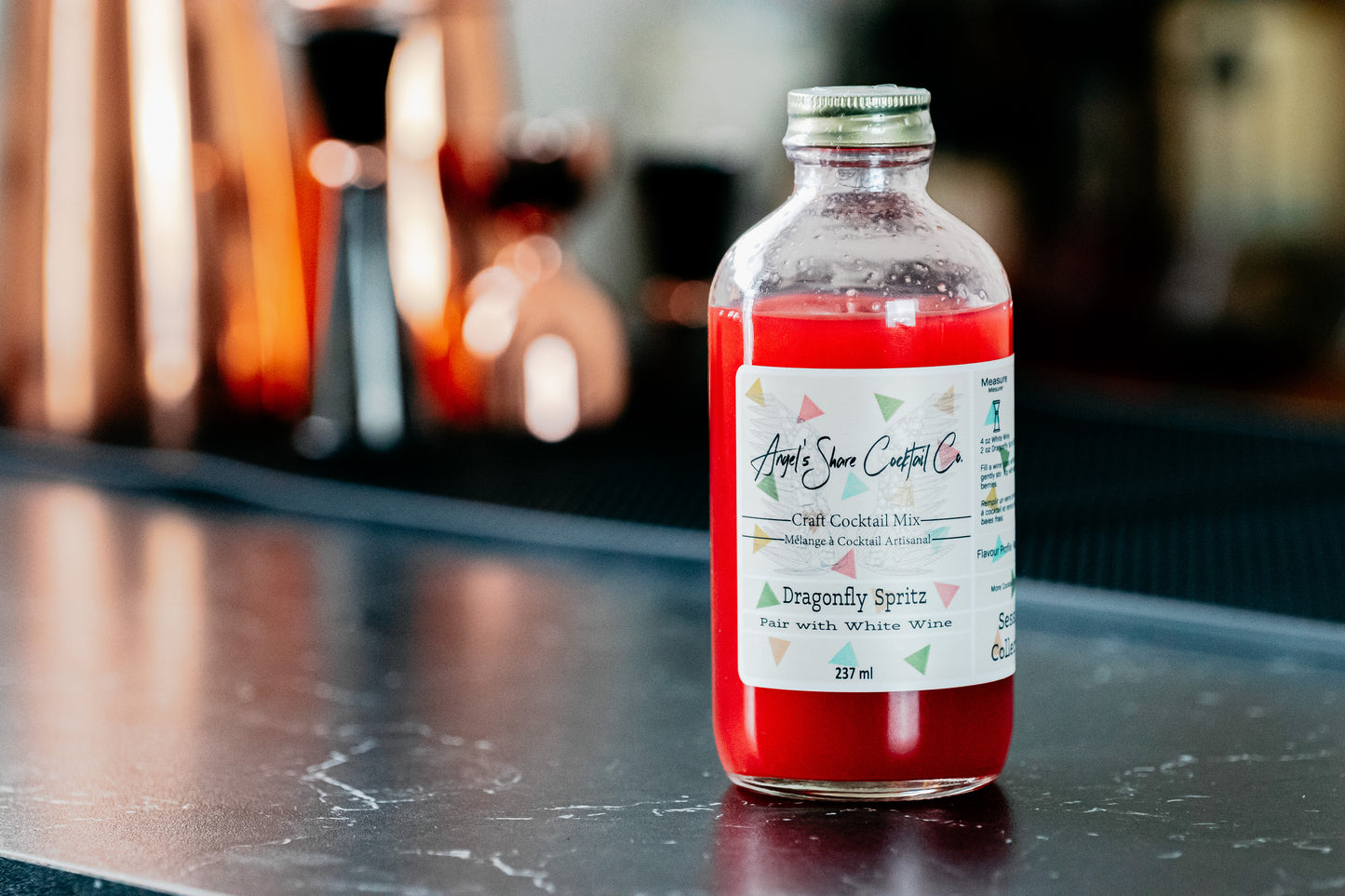 Dragonfly Spritz
Pairs With: White Wine

Flavor Profile: Raspberry + Dragonfruit + Vanilla
We have to admit, this cocktail was crafted for warm summer days in mind. This unique take on a white wine spritz features Raspberry, Dragonfruit and a touch of Vanilla for a light and refreshing tipple.

Add a splash of soda water for texture, and you'll soon find yourself enjoying that warm prairie sun more than ever before.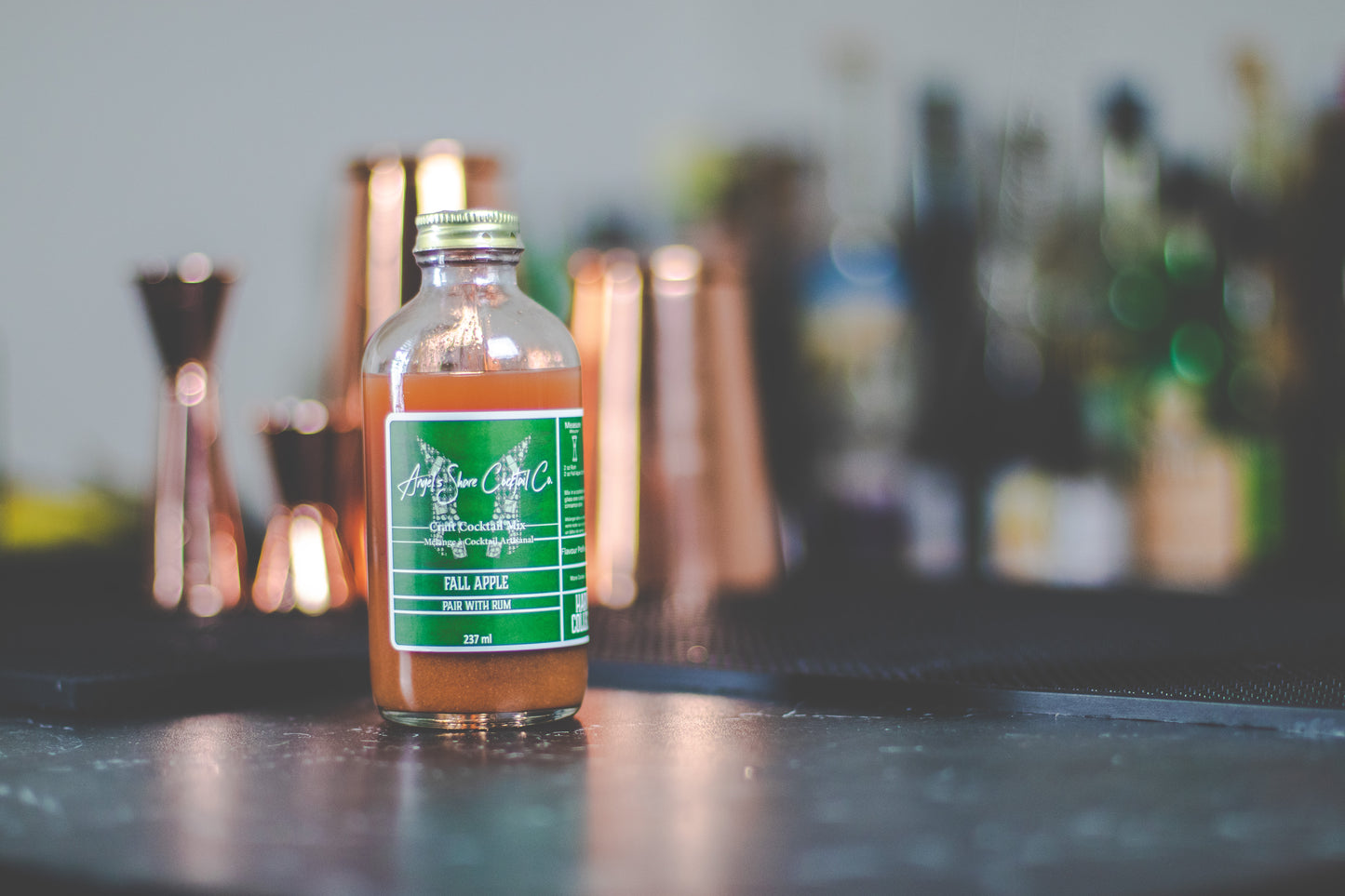 Fall Apple
Pairs With: Rum
Flavor Profile: Granny Smith Apple + Fall Spices + Lemon 
We went through a few iterations of this cocktail, debating whether to design this as a warm or chilled cocktail. In the end we settled on a chilled cocktail that brings a tartness from hand-pressed Granny Smith apples to the palate, which is complemented by the comforting aroma of fall spice, a subtle yet detectable touch of  aromatics, and a splash of citrus to heighten the depth of flavor.

This cocktail screams fall sweater weather, cozy bonfires, and the comforting aroma of fall baking. It has quickly become a favorite of our team, and we hope you enjoy this one as much as we do.
Favourite Jams on Repeat
Pairs With: Red Wine
Flavor Profile: Ancho Chile + Dark Cherry + Black Pepper
Let's get this out of the way off the top, this cocktail is an absolute banger! Think of that favourite song that is locked on repeat, over and over, filling you with energy each time it plays. This cocktail is like that. Big energy. 
My goal was to create a winter sangria that was fresh in the typical sangria fashion, but somehow still warms the soul while the temperatures outside drop. I recently fell in love with an Ancho chile liqueur which formed the inspiration for this mix.
Ancho chile and black pepper bring a slight heat to the sangria, a perfect warming element for those cold winter nights. Sweet dark cherries are the star of the show, perfectly complementing the dried fruit notes typically found in red wines. This cocktail strikes a beautiful balance between staying surprisingly light but also deep and complex at the same time.
Halekulani
Pairs With: Bourbon

Flavor Profile: Pineapple + Orange + Grenadine
Bourbon in a Tiki style cocktail?!? Yes please! This exotic mix combines a full roster of tropical juices - pineapple, orange and lemon juice. We finish things off with a touch of our house grenadine.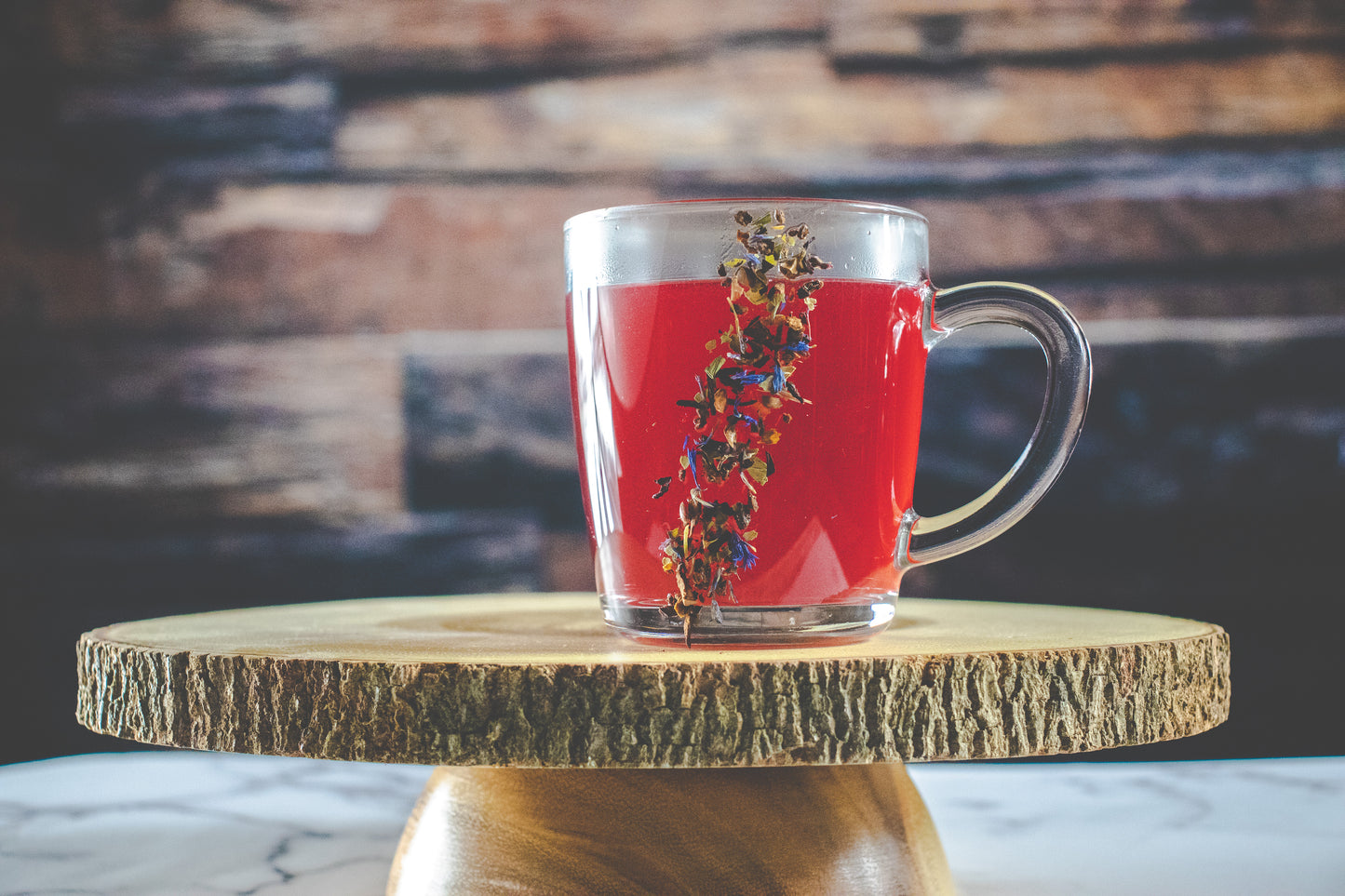 Hibiscus Hot Toddy
Pairs With: Whisk(e)y
Flavor Profile: Hibiscus + Manitoba Honey + Citrus
Now that the seasons have turned and it is officially sweater weather, why not indulge in a warm and satisfying cocktail? Whether it be around the fire, or curled up with your favorite blanket, this cocktail hits all the right spots.
We love the classic Hot Toddy but decided to build on this template by infusing some rich, floral hibiscus. This decision achieved a few things. Firstly, in the glass, the infusion gives this cocktail a festive dark mahogany hue. Next, on the nose, the hibiscus delicately complements the lemon for a bright satisfying scent. Finally, on the palate, the hibiscus and lemon give a delicious dry finish, which is leveled out by the addition of Manitoba honey, easily the most expressive honey we've tasted, and a beautiful product on its own.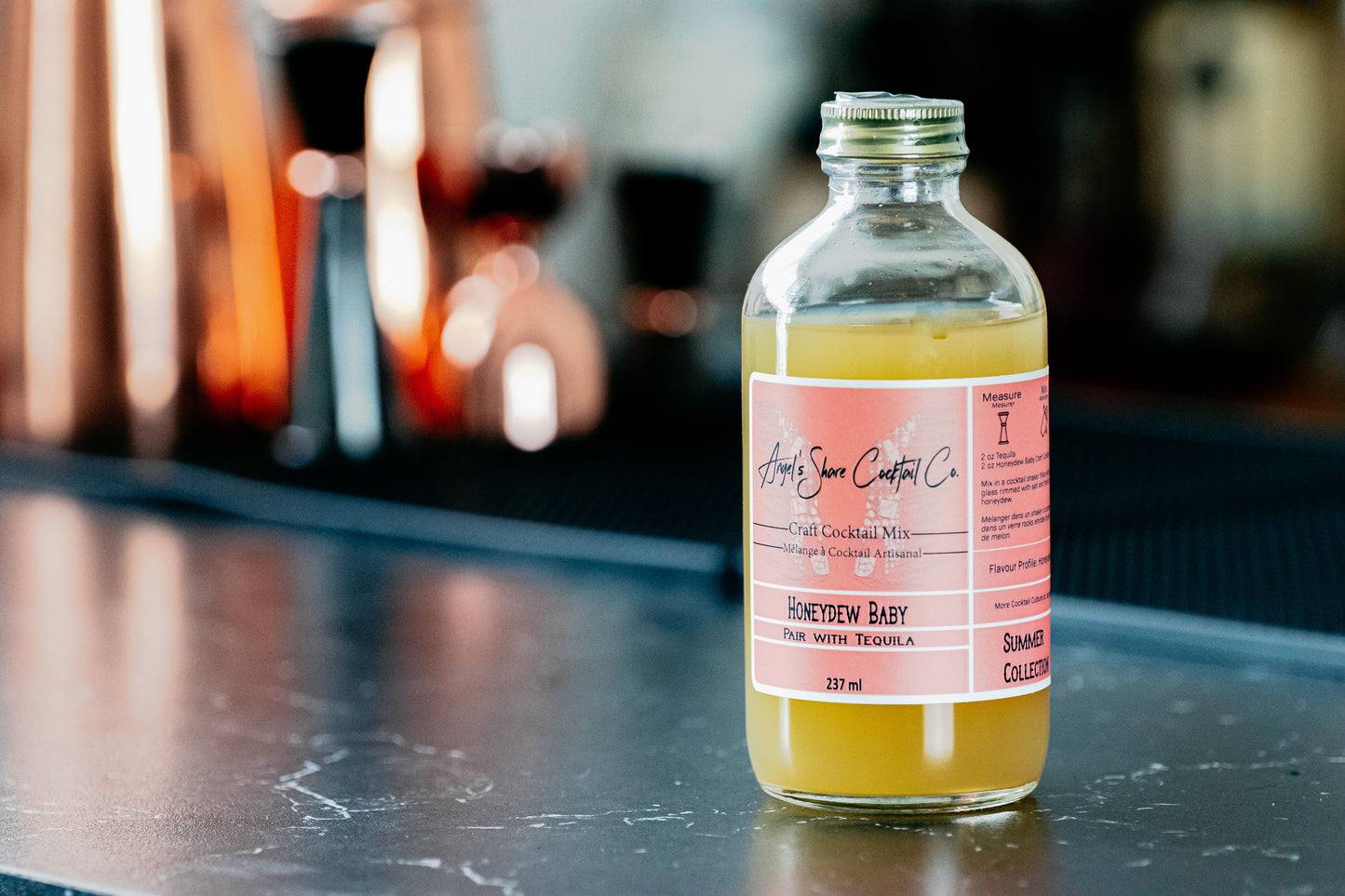 Honeydew Baby
Pairs With: Tequila

Flavor Profile: Honeydew + Lime + Orange
Honeydew Bae-bee!
A playful Angel's Share twist on the margarita pairs honeydew, lime and orange for a refreshing and bright cocktail. This one screams sunny afternoons outdoors or late nights around the fire all summer long.
Hoppin' Hives
Pairs With: Belgian IPA

Flavor Profile: Ginger + Honey + Citrus
What happens when our favorite local brewery produces a delicious Belgian IPA that pairs perfectly with our latest session cocktail?
You get a refreshing Beertail that will have you smiling all Summer long!
We couldn't be more honored to work with the fine folks at Little Brown Jug to introduce Hoppin' Hives, a Session Cocktail that features Manitoba honey, citrus and ginger. This mix is a perfect match with LBJ Belgian IPA made with new world hops in a Belgian style meaning you'll get plenty of tropical fruit, citrus, hops and spice in this refreshing beer with a dry finish.
Jungle Bird
Pairs With: Rum 
Flavor Profile: Pineapple + Lime + Demerara
This classic Tiki cocktail walks the line between juicy and fruity and bitter, especially if you add the recommended 1/2 oz of Campari. Pineapple and lime are propped up by the rich flavor of dark rum in this easy summer sipper. 
Kentucky Buck
Pairs With: Bourbon

Flavor Profile: Strawberry + Ginger + Citrus
 This classic cocktail combines sweet strawberries, spicy ginger and citrus for a fresh and bright summer sipper. Just top with soda water for some texture and enjoy!
King St Sour
Pairs With: Whisk(e)y
Flavor Profile: Garam Masala + Lemon
 We love the classic New York Sour for not only its beautiful presentation, but also because of how well the red wine float works with the other components of the drink.
The King St Sour is a New York Sour style cocktail, but features a subtle hint of a Garam Masala inspired spice. This fragrant spice blend mingles beautifully with the red wine float and the citrus backing the cocktail.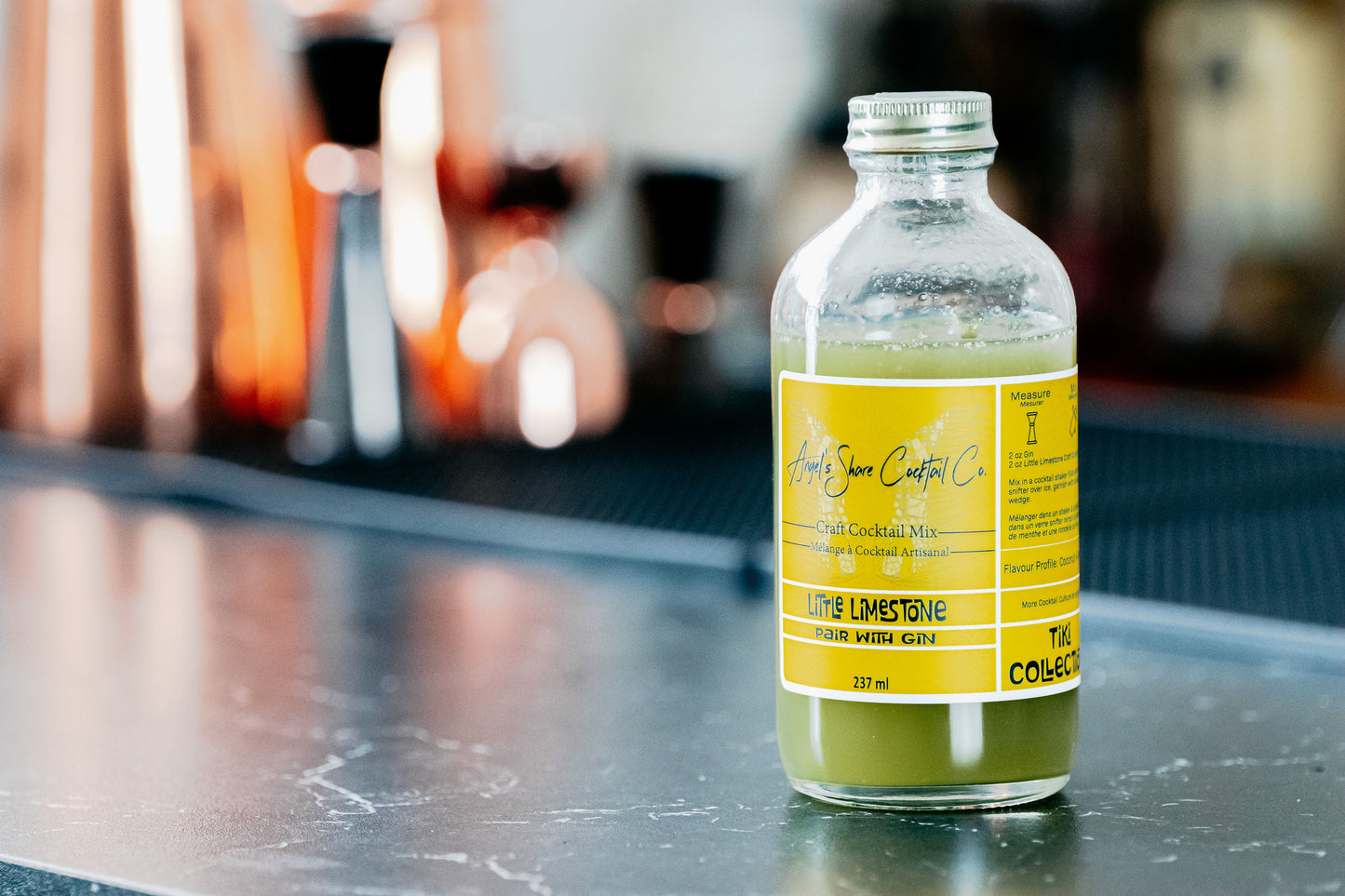 Little Limestone
Pairs With: Gin
Flavor Profile: Toasted Coconut + Grapefruit + Mint
Did it surprise you to see Gin as the base spirit of this cocktail? A hand crafted toasted coconut and mint syrup meets a tangy dose of grapefruit and lime.
Fun back story: When we first made this cocktail we were really surprised by the color, which reminded us of Little Limestone Lake in northern Manitoba. This lake is the world's largest marl lake, which means when it's warm out, a chemical reaction results in a turquoise color in the water! The color is similar to the finished cocktail, hence why we named this Little Limestone.  
London Fog Martini
Pairs With: Vodka
Flavor Profile: Vanilla + Tea + Citrus
A quick internet search indicated the London Fog was created in Canada, so that's pretty cool! We love the simplicity of the London Fog, so challenged ourselves to replicate such a delicate balance in a cocktail. 
This cheeky little number starts with an Earl Grey tea base, which is infused with some fresh vanilla bean (of course!), and some bright citrus. While London Fog might make you think of gloomy, cool weather, this cocktail is fresh, bright and sure to delight.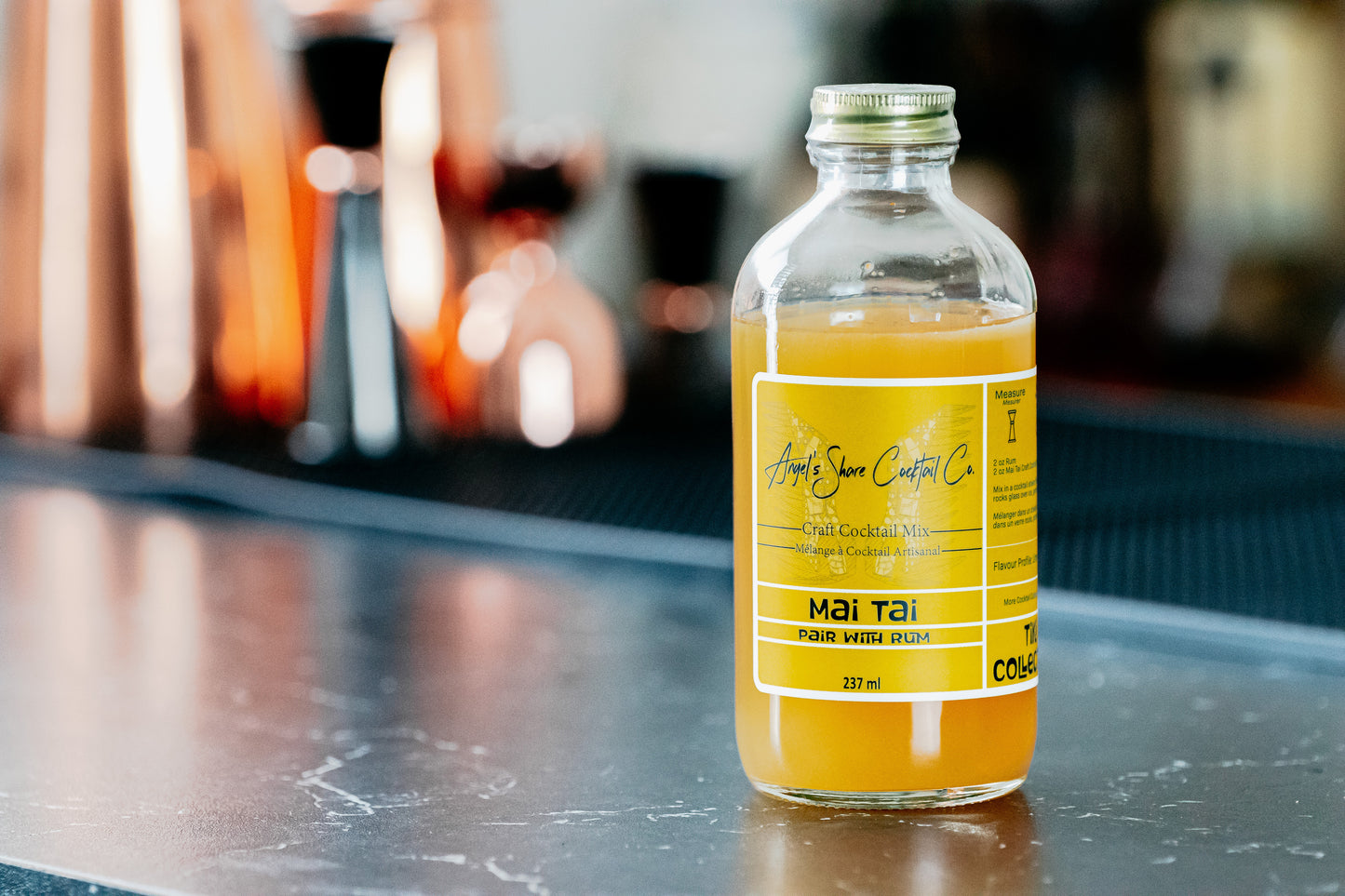 Mai Tai
Pairs With: Rum

Flavor Profile: Lime + Orgeat + Summer Vibes
We hope your experience with a Mai Tai is that of a quality offering, one using real citrus and a rich Orgeat. If you had to suffer through a overly-sweet version, we're sorry. 
We build a rich Orgeat using unblanched almonds and add a touch of rose and orange blossom water which gives this cocktail a hint of perfume at the end of each sip. We round this out with a dose of lime which will give you all the feels all summer long.
Mango Cooler
Pairs With: Vodka

Flavor Profile: Mango + Orange + Lime

Our mango cooler starts with sweet mangos and balances this out with some citrus. We exercised some restraint in not making this cocktail too sweet. We want you to taste the mango and we find the citrus helps accentuate this flavor, reducing the need to add too much sweetness.  
This cocktail is approachable on any sunny afternoon.
Mint Cooler
Pairs With: Whisk(e)y
Flavor Profile: Mint + Lemon
Let's assume it's a hot sunny day. Maybe you just wrapped up some work in the yard. Perhaps you're looking to soak up some rays with your favorite book. Maybe you just got back from a picturesque hike and are looking to kick back in the shade. 
The Mint Cooler pairs perfectly with each of those situations and then some. Fresh mint paired with refreshing citrus and topped with some playful bubbles sounds pretty tasty. Just saying..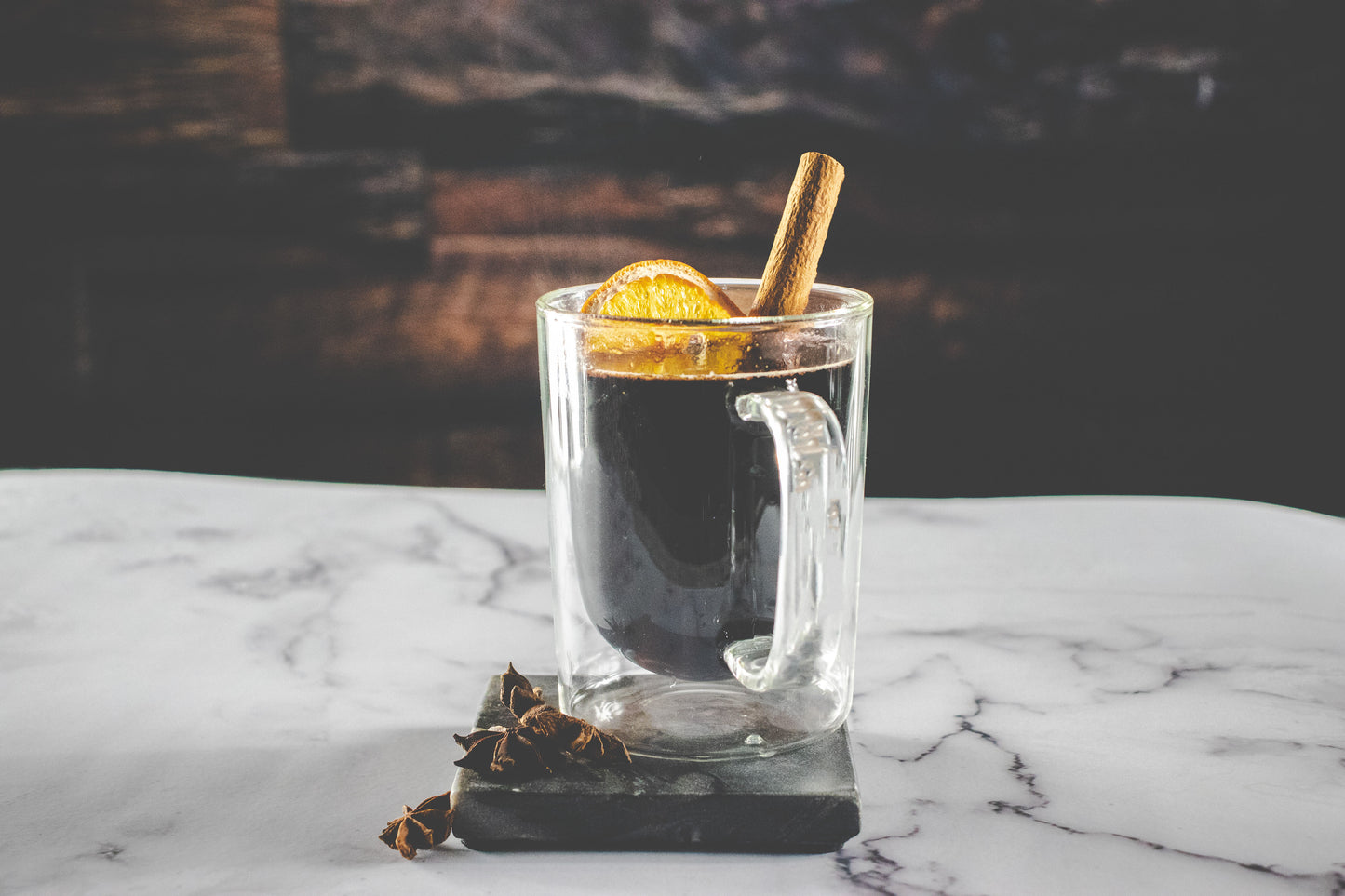 Mulled Wine
Pairs With: Red Wine
Flavor Profile: Orange + Fig + Spices
 Is it possible to actually get excited about winter? 
Absolutely. Especially when the warm, inviting scent of Mulled Wine is floating through your home.
We always challenge ourselves to play off the existing flavor profile of our base spirits, so we set out to enhance the dried fruit tones that come through on the red wine with a slow infusion of dried figs into our mulled wine mix. This rich dried fruit flavor is backed by orange and spice.
Some may say your winter beverage dreams have come true. 
Nashi Fizz
Pairs With: Vodka
Flavor Profile: Nashi + Tonka Bean + Green Tea
This light and refreshing cocktail pairs crisp Nashi pear, the complex vanilla-esque flavor of Tonka bean and green tea for a laid back and delicious sip.