Previous releases that are on the shelf for now. Some will return, some won't. You'll just have to stay tuned!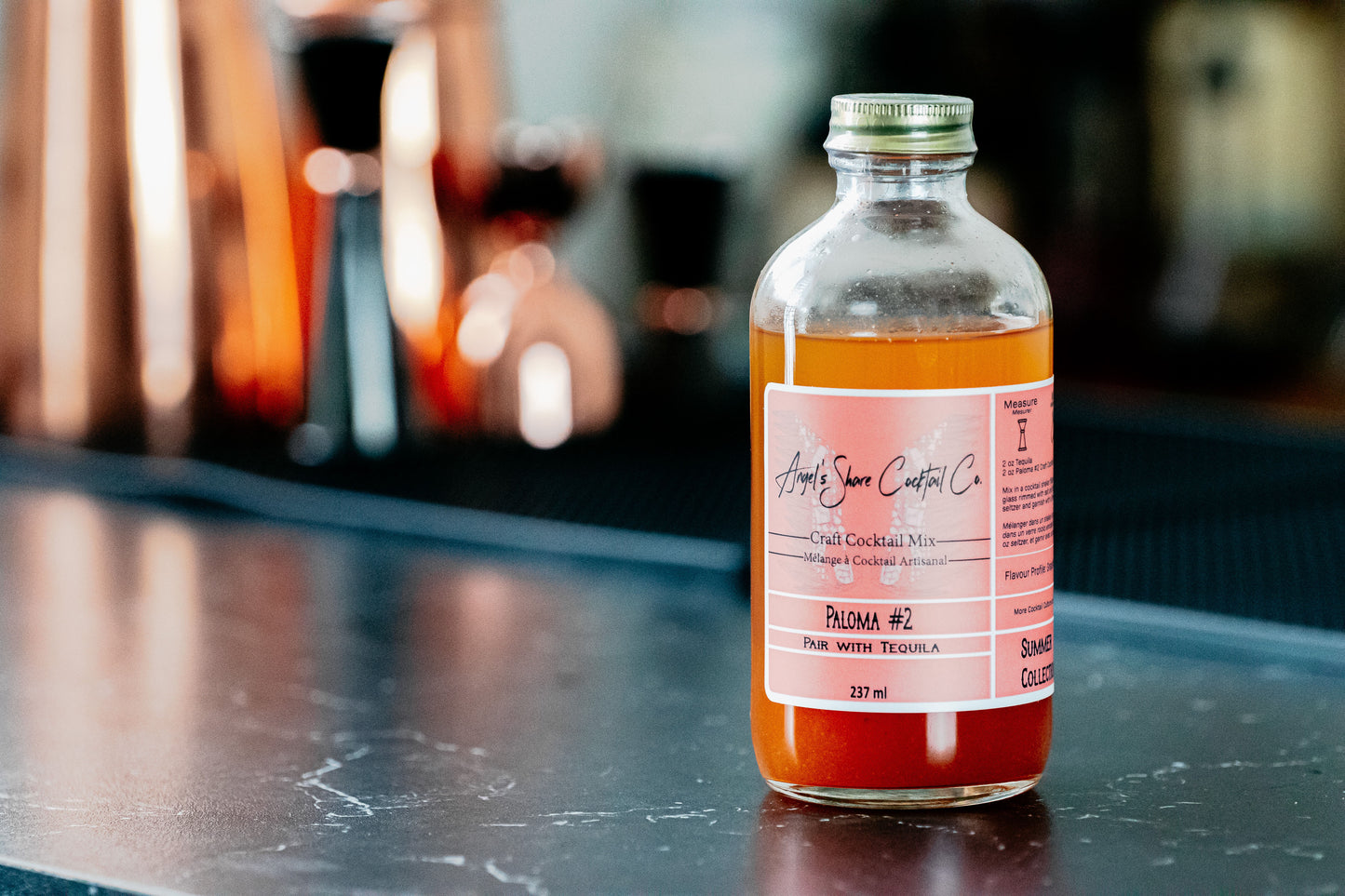 Paloma #2
Pairs With: Tequila

Flavor Profile: Grapefruit + Cinnamon + Lime
Our take on the traditional Paloma swaps out the grapefruit soda for grapefruit juice. We decided to infuse some cinnamon which plays well against the grapefruit as a tribute to our love of Tiki cocktails and one of the pivotal figures, Donn Beach.
Legend has it Donn Beach used to use secret codes such as Mix #1, #2, etc to protect his recipes. As nod to the OG of Tiki culture, Mr. Donn Beach, and his secretive naming conventions, we dubbed this fresh summer sipper Paloma #2.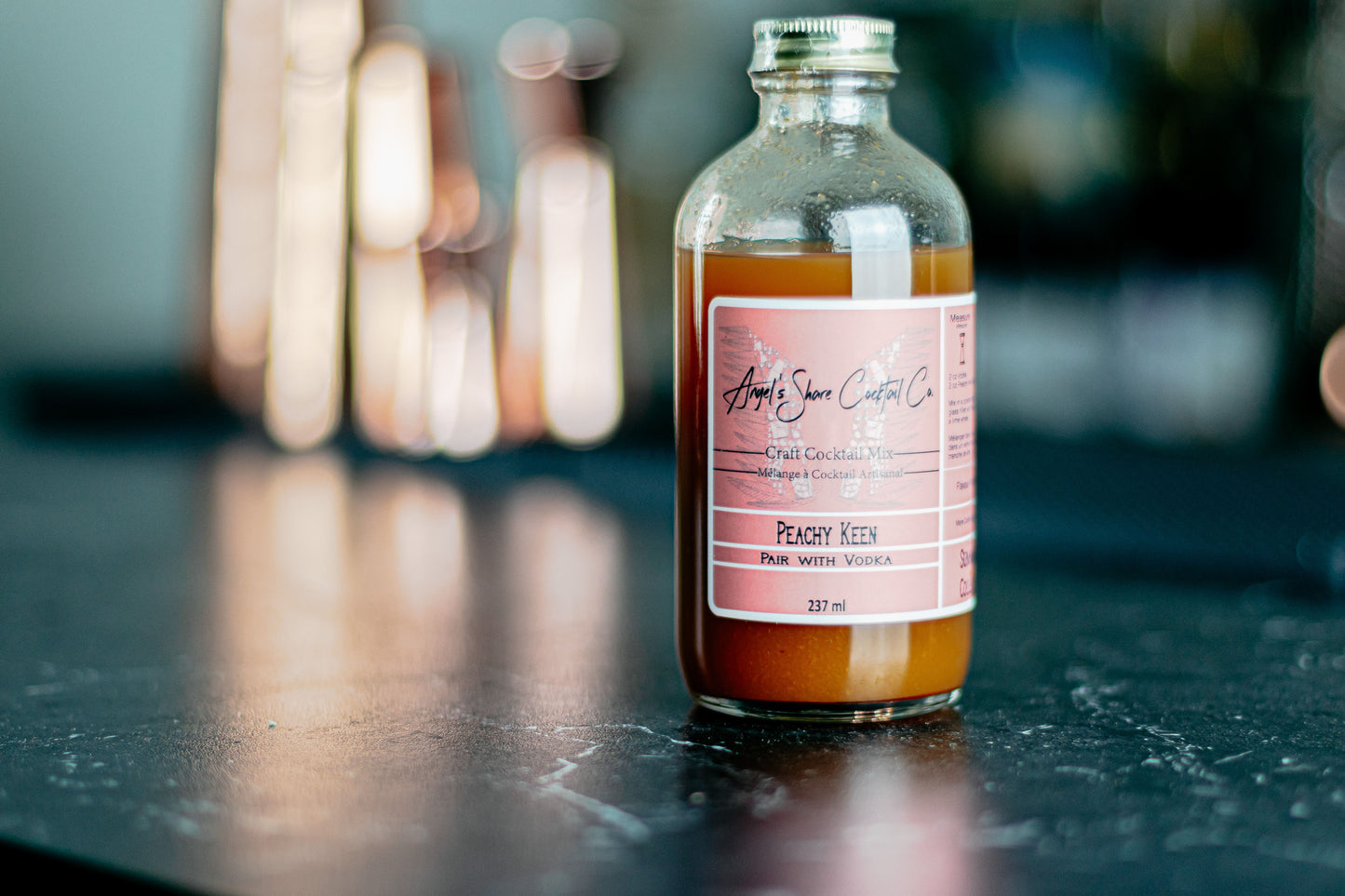 Peachy Keen
Pairs With: Vodka
Flavor Profile: Peach + Rosemary + Tea
Let's set the scene for this one. The sun is shining, there's a light breeze and your patio is calling. Maybe you're hosting some friends and family, and want a refreshing and delicious cocktail to offer your guests.
With Peachy Keen, things are, well, Peachy Keen. The flavorful peach puree is met with a subtle rosemary infusion, finished off with a malty and rich tea base. Whether you're reaching for the pitcher or shaking up individual cocktails, Peachy Keen is sure to make your summer top-notch, A1, awesome, perfect, superb, beautiful or simply....Peachy Keen.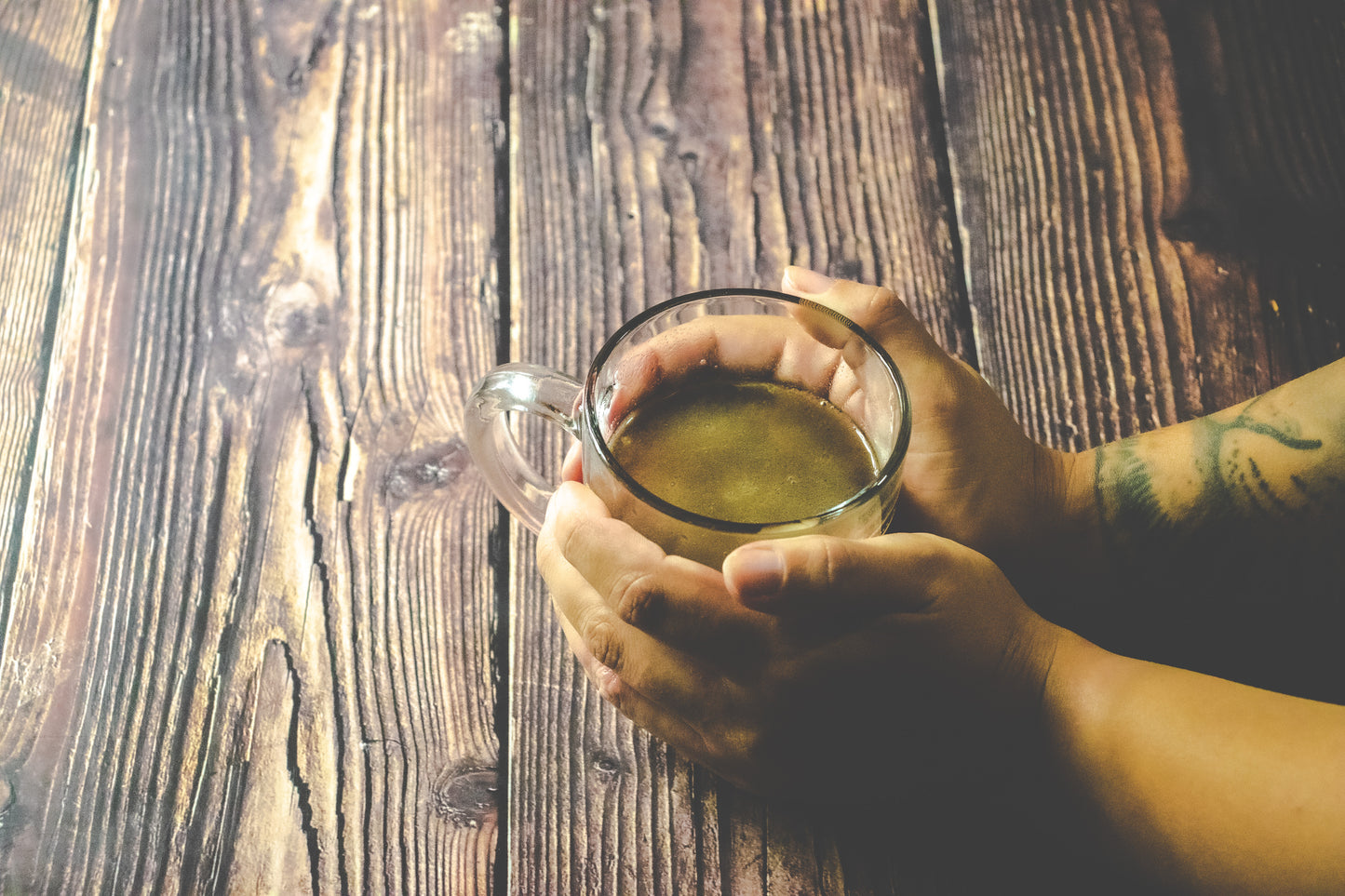 Pecan Date Hot Buttered Rum
Pairs With: Rum
Flavor Profile: Toasted Pecan + Date + Citrus
For our Winter Solstice Collection, we wanted to create a rich, spirit forward yet warm drink, and knew the hot buttered rum classic template would be a good place to start.
Our culinary and mixology world's collided when we found inspiration in the pecan date pie, a flavor combination we knew would give us the satisfying richness to the drink we were starting to formulate in our minds.
With the drink now firmly mapped out in theory, we began creating - infusing toasted pecans and soft, sweet dates into our base. A hint of citrus cuts through the richness as a nod to the technique often used by chefs and pastry chefs to brighten up a dish.
This drink is spirit-forward, rich, buttery, warm and inviting.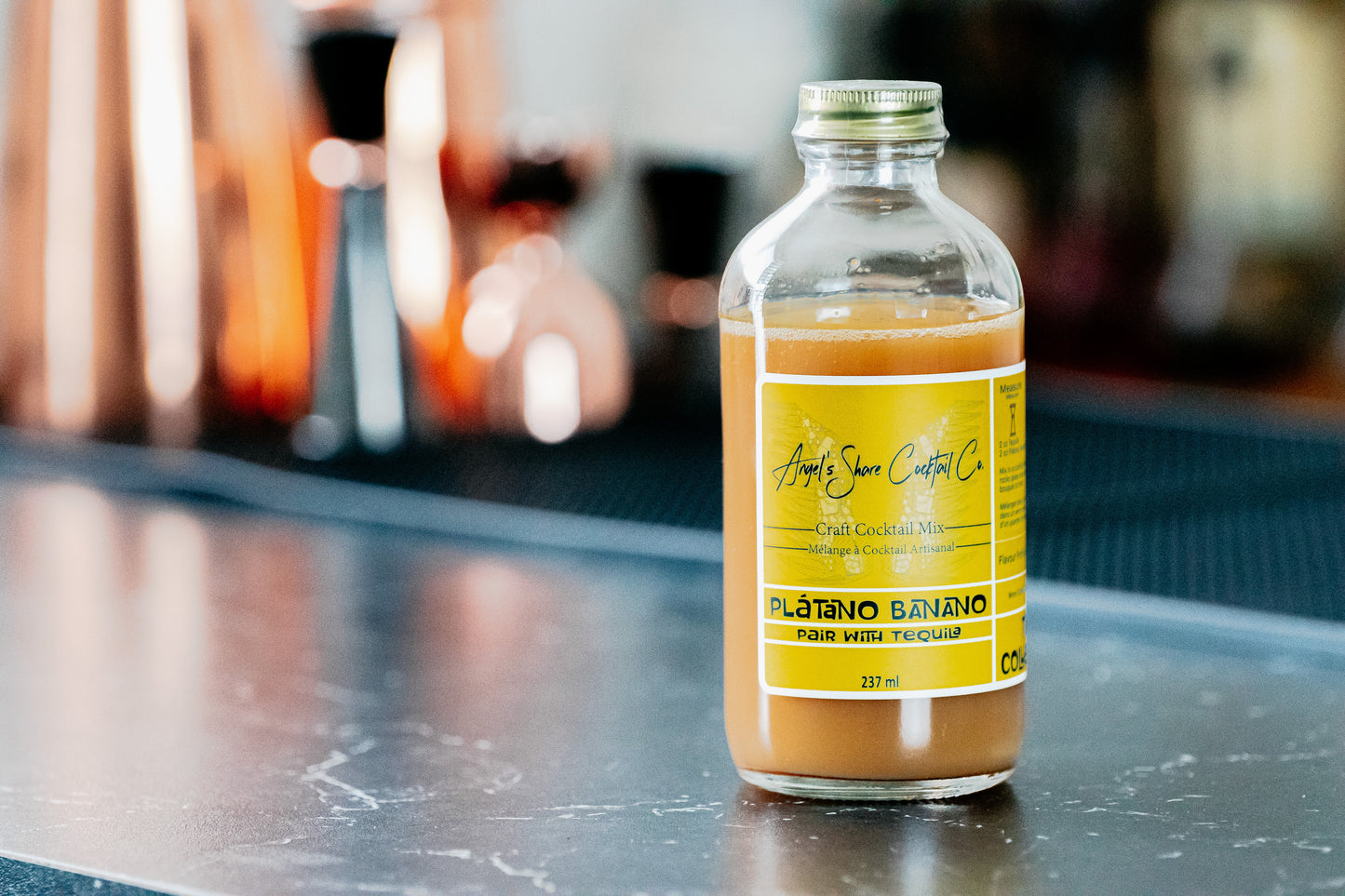 Plátano Banano
Pairs With: Tequila
Flavor Profile: Banana + Pineapple + Habanero
Banana, pineapple, lime and spice, this exotic cocktail has it all. Pairing with tequila, this cocktail stands a chance to convert those who have abandoned tequila long ago.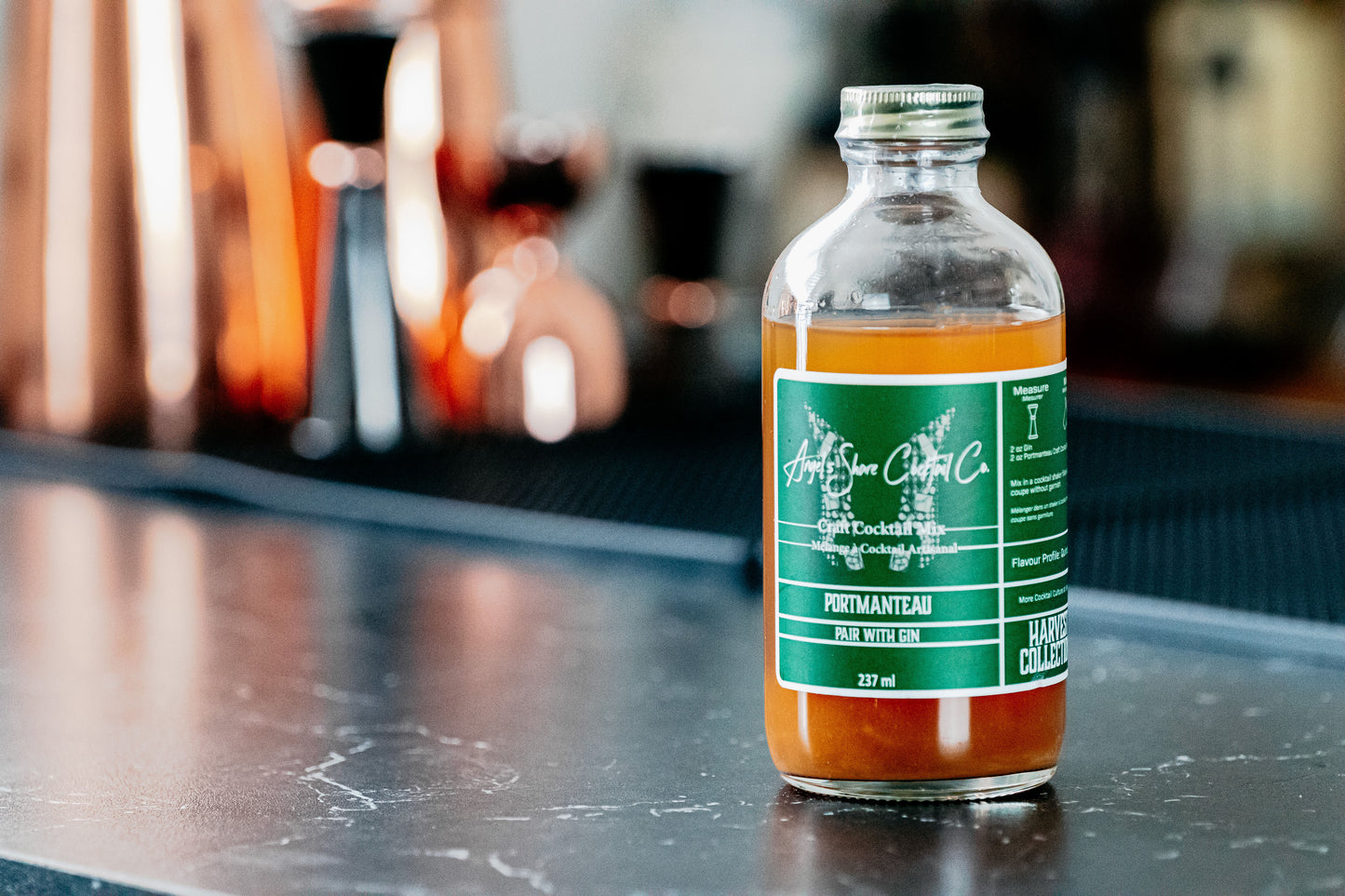 Portmanteau
Pairs With: Gin
Flavor Profile: Quinoa + Vanilla + Apple
A portmanteau refers to both a large trunk or suitcase as well as a word that blends the sounds and meanings of two words together (like Breakfast + Lunch = Brunch).
If you think of the bottle as a portmanteau, you'll find it loaded with 6 components:
Quinoa, Apple, Vanilla, Grapefruit, Lemon, Ginger
This cocktail is fresh and easy going. If you peel back the layers, you'll find surprising hints of nuttiness from the quinoa, a subtle spice from the ginger, the comforting flavor of vanilla, bitterness from the grapefruit and the tart earthiness from the apples. 
Pumpkin Spiced Cocktail
Pairs With: Vodka
Flavor Profile: Pumpkin + Baking Spices + Citrus
Yes, we went there. But before you get stressed about Pumpkin-spiced everything, hear us out.
This cocktail will absolutely surprise you. Why? You can actually taste the pumpkin, which isn't held down by excessive sweetness or spice! This cocktail ends up being a touch lighter than you would expect, with a delicate and cerebral focus on harmony between ingredients rather than an overwhelming pumpkin spice flavor.
Break out the plaid, and dust off your boots because this cocktail is fall in a glass.
Rickhouse Punch
Pairs With: Bourbon
Flavor Profile: Vanilla + Berries + Allspice
This was one of the first holiday punches we ever made. Featuring blackberries, blueberries, allspice and citrus this is a spirit forward, yet playful and approachable punch. Pairing with Bourbon and finished with soda, this is a hit when you're feeling festive!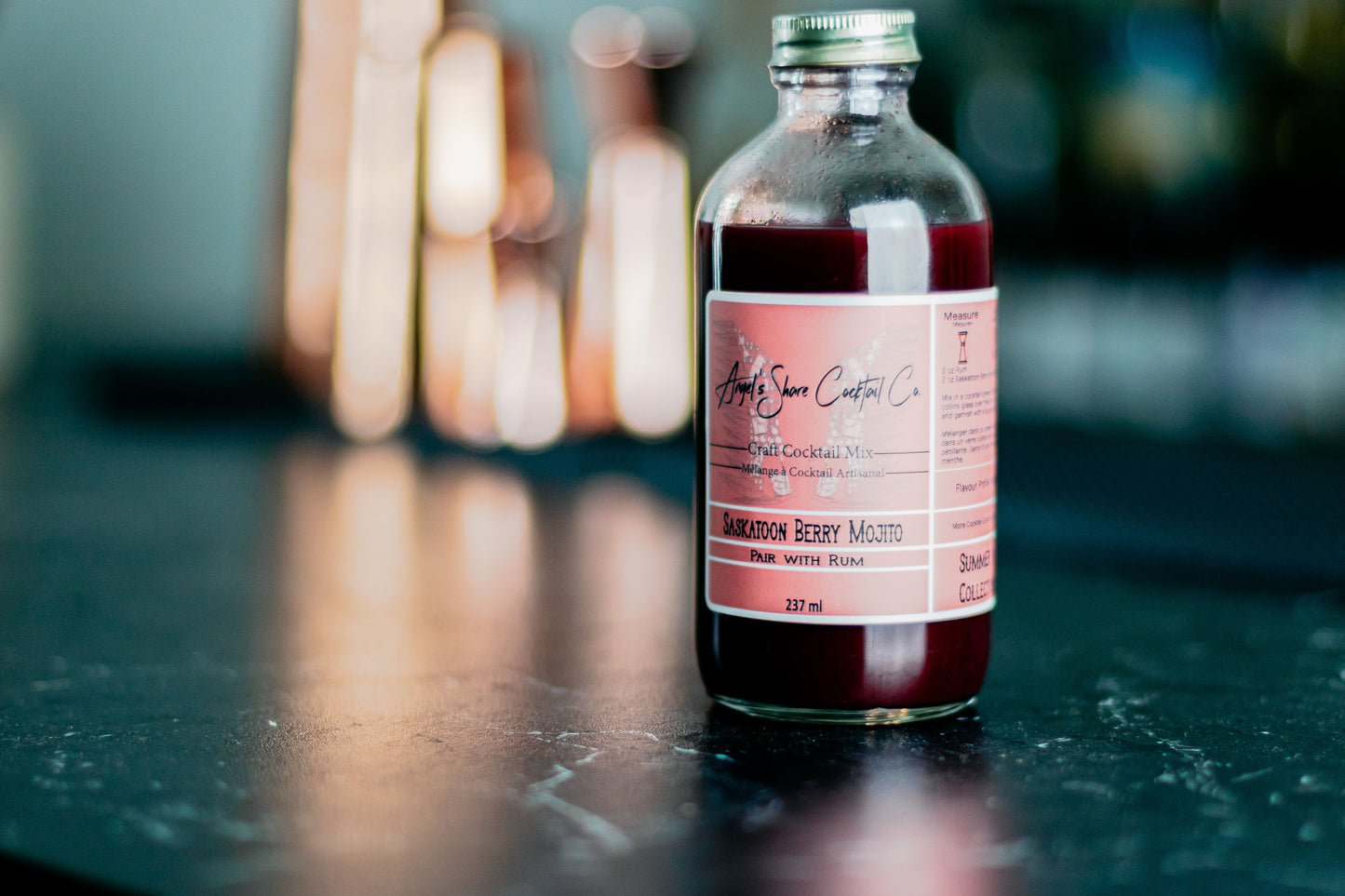 Saskatoon Berry Mojito
Pairs With: Rum
Flavor Profile: Mint + Saskatoon Berry
Is there a more iconic prairie berry than the Saskatoon? We think not!
This classic berry brings it's distinct floral and almost almond like flavors to the classic Mojito for a minty and fresh summer sipper. This cocktail is made with local Saskatoon berries, fresh mint and a heavy dose of lime meaning its tart, fresh and packed full of berry flavor.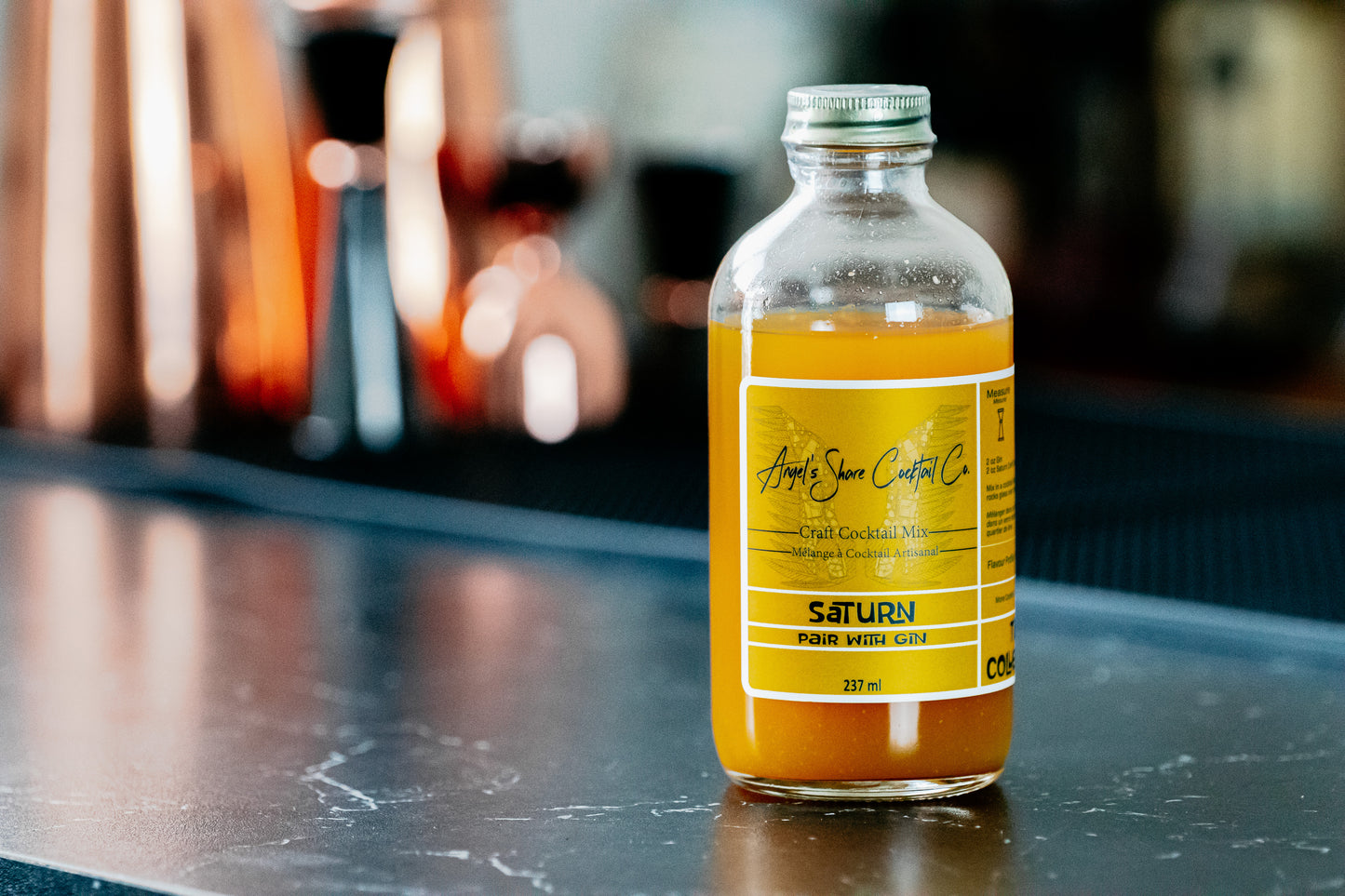 Saturn
Pairs With: Gin

Flavor Profile: Passionfruit + Orgeat + Falernum
This classic tiki cocktail features prominent flavors of Passionfruit, backed by tropical Orgeat and Falernum. Pairing with gin, the Saturn is sure to bring the summer vibes all the time.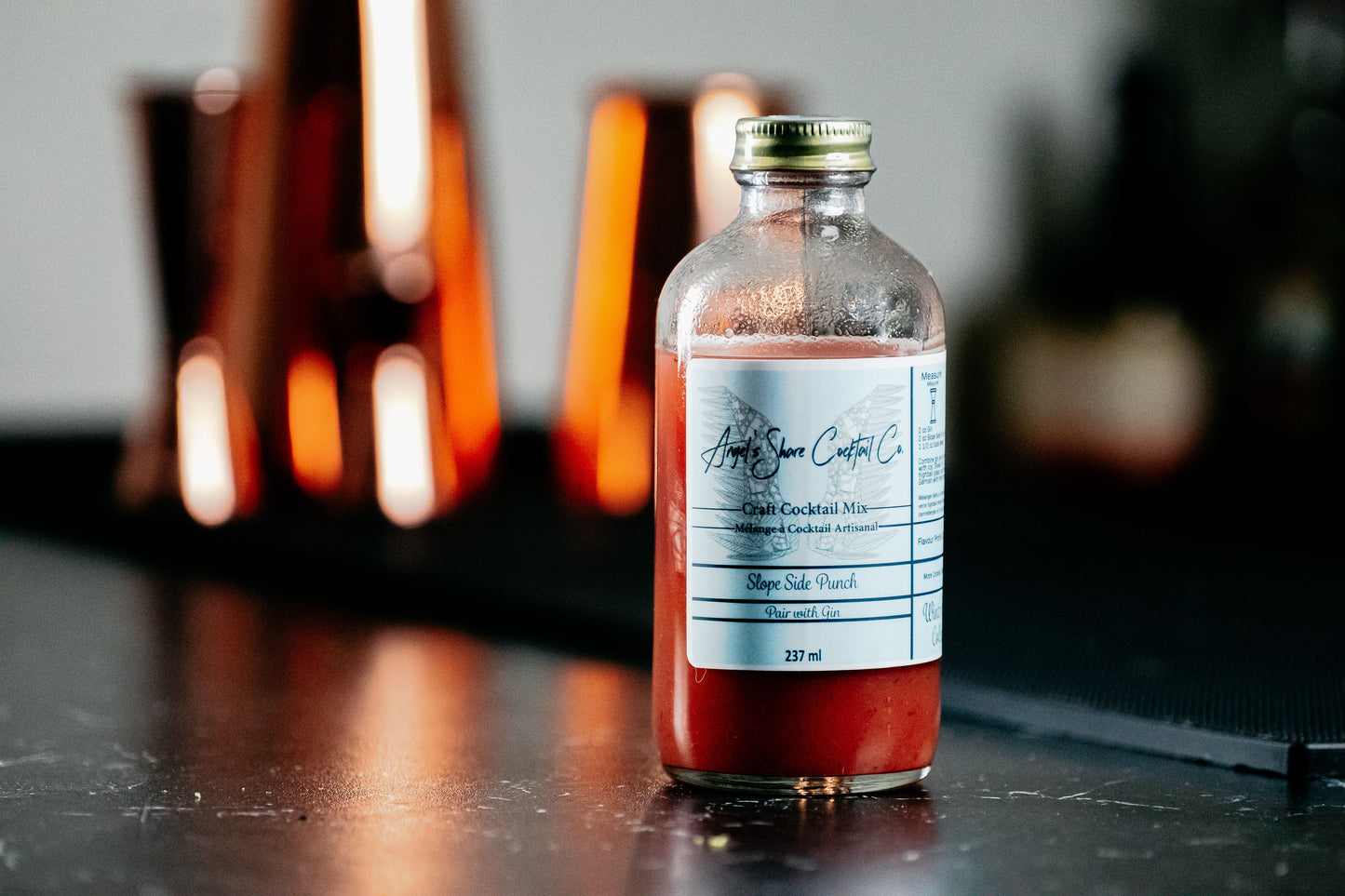 Slope Side Punch
Pairs With: Gin
Flavor Profile: Cranberry + Citrus + Peychaud's
You asked, we answered. One of the most frequent questions we get at our holiday markets is - do you have anything with cranberry? 
Well, here it is!
Cranberry is a challenging ingredient in cocktails because they are extremely tart, so I wanted to sway to a punch style cocktail where big juicy notes aren't out of the ordinary. The inspiration of this cocktail was really centered around the color red, keeping that beautiful red hue from the cranberry intact and really evoking memories of the holidays.
Peychaud's bitters are a classic coming out of New Orleans, known for the distinct red hue, fitting naturally with my inspirational template. A holiday spiced syrup featuring comforting notes of clove, cinnamon and star anise are welcoming on the nose at that first sip.
This cocktail screams holidays, landing with a sharp color and a delicate touch.
Spicy Margarita
Pairs With: Tequila
Flavor Profile: Lime + Jalapeno
We wanted to do something different with the Margarita, so decided to turn up the heat this summer. We infused this cocktail with seed-in fresh Jalapenos that will give you a nice burn that is balanced out by the citrus. This cocktail is good mixed individually or as a pitcher for you and your guests to enjoy.  
Strawberry Tilt-a-Whirl
Pairs With: Aperol + Gin

Flavor Profile: Strawberry + Grapefruit + Lemon
Your new favorite. TBE. Spring in a glass.

However you choose to describe it, our Strawberry Tilt-a-Whirl Craft Cocktail Mix checks off a lot of boxes.
Pairing with Aperol and Gin, this Session Cocktail mixes up as a low ABV stunner with a slight bitterness, bright, juicy citrus and sweet Manitoba field strawberries.
Do you remember the Strawberry Tilt-a-Whirl? The challenge was to see how fast we could get it spinning. Summer memories indeed.
Summer Berry Sangria
Pairs With: Red Wine

Flavor Profile: Blackberry + Raspberry + Cinnamon
 Inspired by the seemingly never-ending flow of Sangria that was imbibed on during a trip to Seville, our Summer Berry Sangria is a solid addition to our Session Collection. Pairing with your favorite red wine, this low ABV cocktail is light, and complex, introducing fruity berries and a complex spiced lemon and orange Oleo-Saccharum for a rich but not overly sweet cocktail.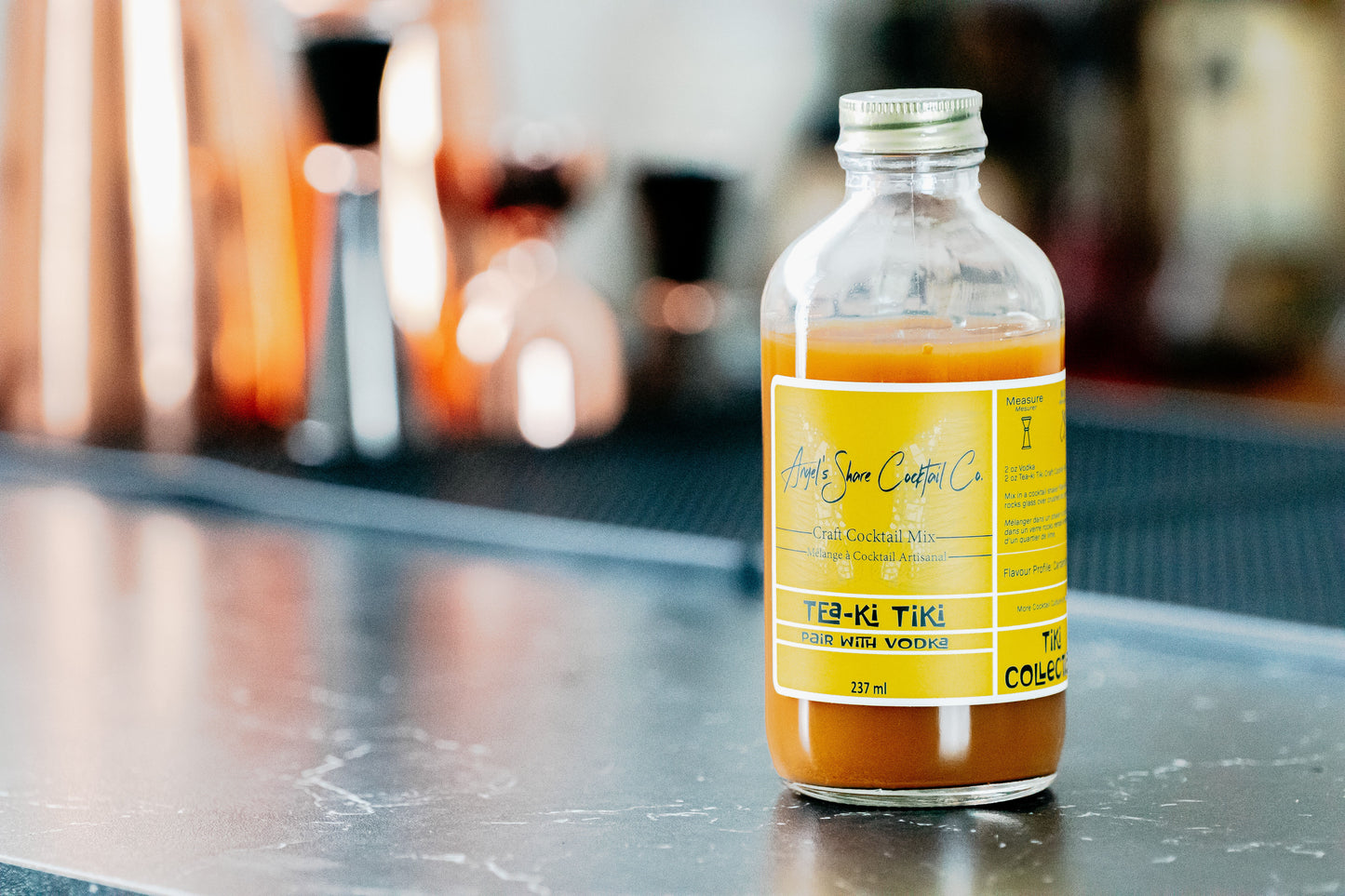 Teaki Tiki
Pairs With: Vodka

Flavor Profile: Cardamom + Black Tea + Honey
Tea-ki Tiki is an exotic mix of full body Ceylon tea, a cardamom infused honey and bright citrus. This cocktail is light with layers of flavors that will transport you to tropical climes.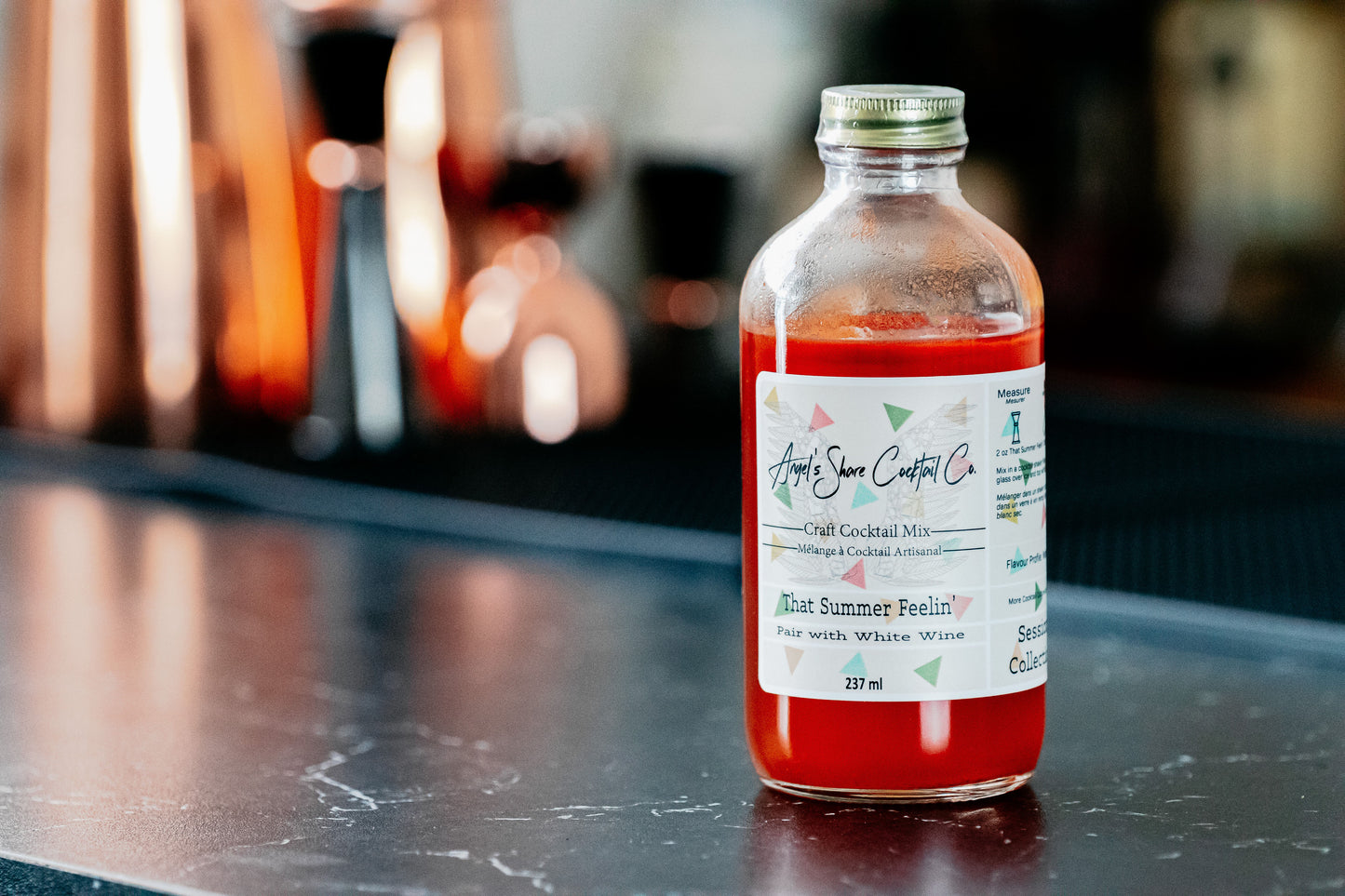 That Summer Feelin'
Pairs With: White Wine

Flavor Profile: Watermelon + Elderflower
When you're in the mood for a light, low ABV cocktail look no further! We pair one of our favorite flavors, elderflower, with juicy watermelon for a relaxed cocktail that can be enjoyed at all times of day.
That Winter Feelin'
Pairs With: White Wine
Flavor Profile: Pear + Green Tea + Nori
 That Winter Feelin' is a Japanese-inspired warm cocktail that will change how you view warm drinks. Especially warm drinks using white wine.
Wait, Angel's Share is doing a warm white wine cocktail with nori?
That's right. You saw it here first. 
This cocktail features a green tea that is infused with nori and pink peppercorns. The tea is then mixed with pear, cinnamon and a touch of citrus. The green tea and nori play well with the underlying flavors of a crisp white wine, while the pear softens the edges when heated.
This cocktail benefits from a sweeter white wine like a Niagara Riesling.
Thyme for Good Times
Pairs With: Gin

Flavor Profile: Kiwi + Thyme + Celery
The latest edition to our Session Collection, Thyme for Good Times is a light hearted and playful fizz. With a key flavor of ripe Kiwi, a touch of fresh thyme and celery juice, this cocktail pairs well with all those botanicals in your favorite gin. 
Finish this cocktail off with a splash of soda water, this is an extremely drink-able cocktail at brunch, in the afternoon or before dinner.